T&T Women move to top of Group F
TTFA Media
April 10, 2022
0 Comment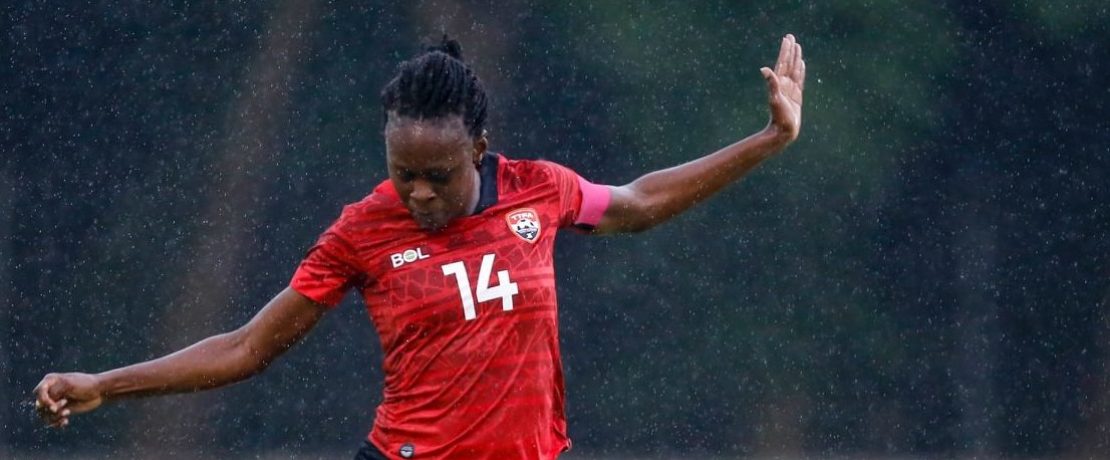 T&T WOMEN MOVE TO TOP OF GROUP F
Trinidad and Tobago senior women completed a commanding 13-0 victory and to the top of the Group F standings as they seek to advance in their 2022 CONCACAF W Championship World Cup qualifying campaign. They now need just a draw but will look to end the group continuing their winning run against Guyana at the Dwight Yorke Stadium on Tuesday from 6pm
And head coach Kenwyne Jones said he wants his squad to continue to develop a winning mentality as they progress throughout this tournament.
Rivals Guyana (seven points) dropped two points when they drew 0-0 with Nicaragua Friday, giving head coach Jones and his team the opportunity to surge to the head of the standings after the Guyanese had been in the pole position in Group F based on a superior goal difference.
"The important thing was to win the match because in this stage of the competition, it is about the three points," Jones explained in a post match media briefing. "A draw would not have been good enough, at least for us. It is important that we continue the form that we have and keep building in the performances that we have.
"I know that once we performed in the right manner, the goals will come. It is not a matter of going out there and being flustered about how many goals we need to get. It is about the performance and the way we play and the way we are trying to play, the mentality we are trying to develop and the command we are trying to have."
T&T captain Karyn Forbes and company's rout of the Turks & Caicos yesterday at the TCIF National Stadium in Provinciales boosted their goal difference to + 17 compared to Guyana's +11. And the Women Soca Warriors demonstrated that winning attitude against a much lower-ranked team. Guyana will now have to chase a victory when both teams meet in Tobago Tuesday at the Dwight Yorke Stadium in the all-deciding clash.
And even though, the Women Warriors could settle for a draw and still advance Tuesday, Jones is looking for continued aggression and commitment to an outright result.
"Drawing the match is not what we're about. We want to win every game in this round of qualification, Thankfully we continued the way that we started. The aim was always to get better and stronger with each performance …also, thankfully we have some additions, not all the additions that we wanted to the squad so far but the squad itself is getting deeper and stronger and that puts us in a good place for when we go on to the Guyana match and beyond, " he assessed.
Jones said Guyana tactically aims to control the midfield through some of their clever players. But his squad also had its strengths that will drill down on.
"I am very confident that once we do what we are supposed to do, play how we are supposed to play and manage the game how we want to play, we will win the game.
"The minimum standard for us is to win every game we play. That is the mentality that we want to develop in the squad, especially in this round. We do know when we go onto the other stages the competition will get harder but now is a good platform for this team to get into that winning mentality, that commanding mentality because we are very short on games as compared to the other big teams in CONCACAF over the last two to three years. All of these matches are building blocks for us and I am pleased with the performance and the way they went about playing and getting the goals today."
Yesterday afternoon, T&T had eight different scorers, including top-scorer, midfielder Chelcy Ralph (sixth, 17th, 82nd), who netted a hat-trick to establish her team's total dominance of their Caribbean opponents. Debutant and forward Maya Matouk (49th, 65th) scored a double along with Raenah Campbell (72nd (penalty), 86th) in a line-up in which Jones rested six usual starters.
Captain Forbes herself notched a brace (33rd and 45th), while Lauryn Hutchinson (14th), Cecily Stoute (35th), Liana Hinds (41st) and Maria-Frances Serrant (76th) all got on the scoresheet in this lop-sided affair.