Hutchinson sends T&T to Final Round
TTFA Media
April 13, 2022
0 Comment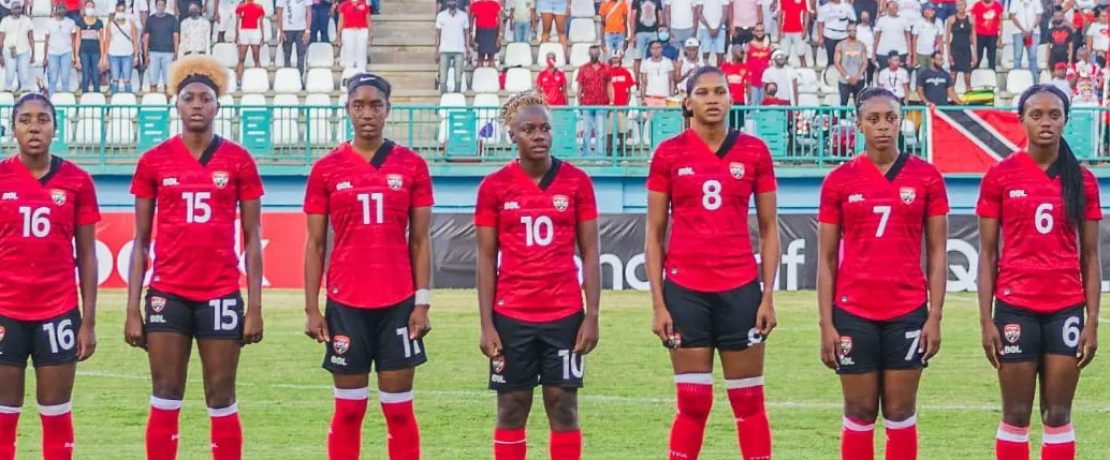 T&T Women Through to CONCACAF Finals
Trinidad and Tobago got an 89th minute equalizer from substitute Lauryn Hutchinson to secure a point in a 2-2 draw with Guyana and in the process secure its berth in the CONCACAF Final Round of World Cup Qualifiers for the 2023 FIFA Women's World Cup.
Playing before a partizan crowd at the Dwight Yorke Stadium, Bacolet, T&T had to come from behind twice to get the result that kept their World Cup hopes alive.
T&T finished on ten points from four matches, followed by Guyana with eight. Guyana needed a victory while T&T needed only a draw after swamping Turks and Caicos 13-0 on April 9th.
There were twists and turns in a tense encounter, in front of a lively crowd at Bacolet, before the veteran Hutchinson scored, five minutes after replacing the other goalscorer Asha James who leveled the scores from the penalty spot.
Early on James had T&T's first attempt on goal, after three minutes of play. The attacking midfielder got behind the Guyana defence but her right-footed shot went wide of the mark.
T&T Under-20 captain Maria-Frances Serrant missed a glorious chance to break the deadlock in the 24th minute.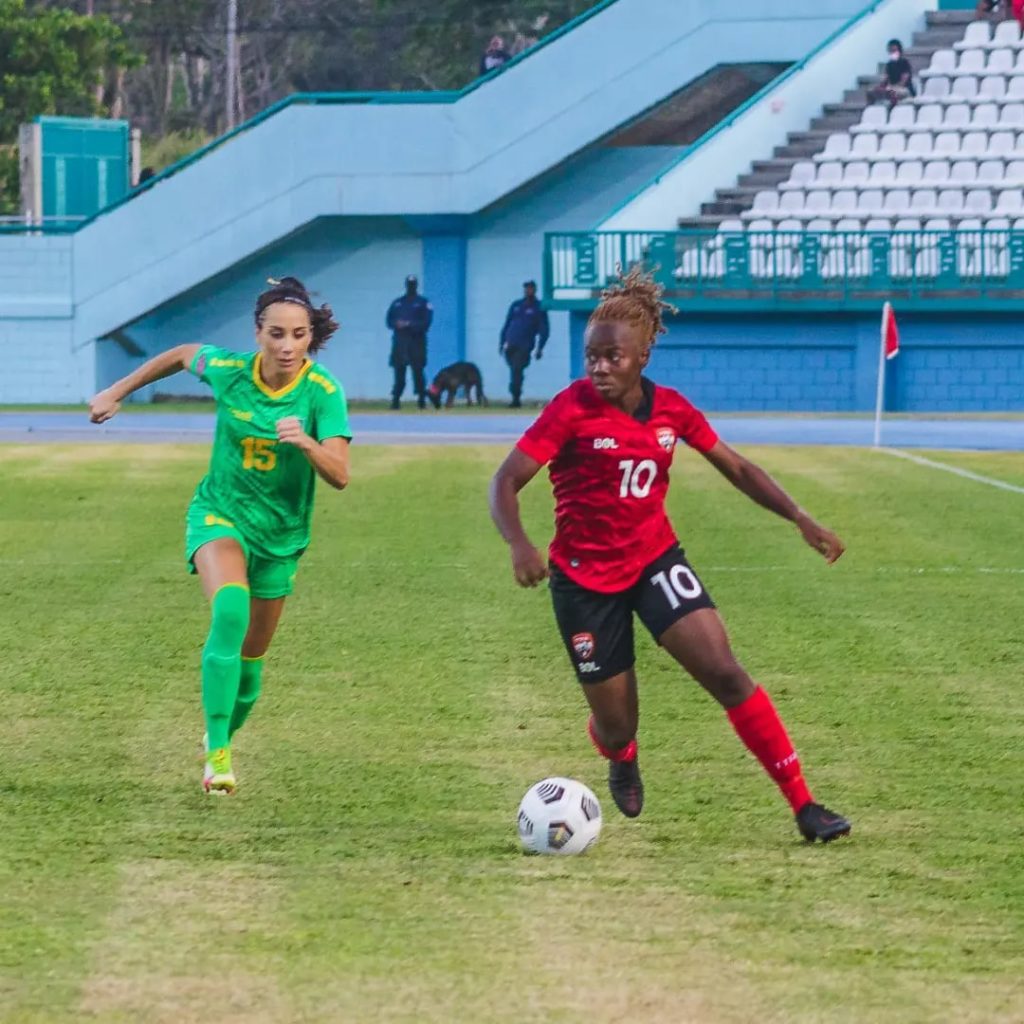 Central defender Rhea Belgrave did well to chase a ball from Liana Hinds and pick out Serrant, who spooned her shot overbar, from inside the six-yard box. That was the first of a few missed chances for Serrant on the night
Guyana took the lead against the run of play when she failed to gather another freekick from Brianne Desa, and Sydney Cummings was on hand to pounce on the loose ball and score from three metres out.
T&T levelled the scores in the 48th, when James sent her penalty attempt to the right of goalkeeper Chante Sandiford, after Serrant was tripped inside the area by Briana De Souza.
In the 66th, Serrant intercepted the ball from an opponent, inside the Guyanese half, and raced towards goal, but her right-footed effort struck the crossbar. Twelve minutes later, after good work down the right flank by wing-back Kedie Johnson, Serrant was given a clear shot on goal but her meekly-taken right-footer trickled wide of the keeper right.
Goalkeeper Kimika Forbes gifted Guyana a 2-1 lead witheight minutes to go in regulation time. A low, weakfreekick from Cummings stunningly trickled between the hands and legs of the T&T goalie to stun the T&T side and silence the stadium.
But Hutchinson rose to the challenge and set the venue alight after Cecily Stoute sent a cross from the right which was met by Serrant who failed to convert, as her shot crashed off the bar, but Hutchinson was on hand to tap home the rebound, and guarantee a spot for T&T at the Concacaf W Championships.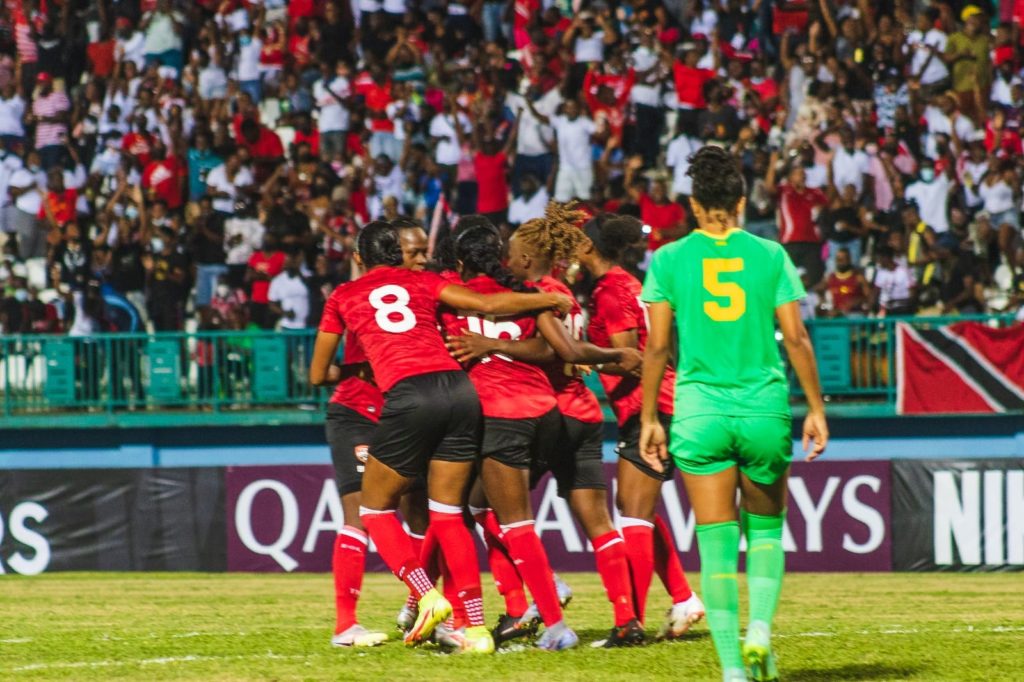 Trinidad and Tobago (4-2-3-1): 1.Kimika Forbes (GK); 6.Shadi Cecily Stoute, 8.Victoria Swift, 4.Rhea Belgrave, 15.Kedie Johnson (17.Maya Matouk 84′); 7.Liana Hinds, 14.Karyn Forbes (captain); 16.Cayla Mc Farlane (2.Chelsi Jadoo 75′), 10.Asha James (20.Lauryn Hutchinson 84′), 11.Raenah Campbell (12.Chelcy Ralph 75′); 18.Maria-Frances Serrant.
Unused substitutes: 21.Tenesha Palmer (GK), 22.K'lil Keshwar (GK), 9.Amaya Ellis, 19.Sarah De Gannes, 23.Aaliyah Trim.
Head Coach: Kenwyne Jones
Guyana (4-1-2-3): 1.Chanté Sandiford (GK); 20.Brianne Desa, 5.Sydney Cummings, 11.Briana De Souza (3.Tiandi Smith 80′), 6.Ghilene Joseph (8.Shanice Alfred 59′); 4.Kayla De Souza (captain); 7.Justine Rodrigues, 16.Stefani Kouzas; 15.Calaigh Copland, 13.Annalisa Vincent (17.Neema Liverpool 88′), 12.Otesha Charles (14.Brittany Persaud 80′).
Unused substitutes: 18.Natalie Nedd (GK), 22.Raven Edwards-Dowdall (GK), 2.Rylee Traicoff, 9.Lakeisha Pearson, 10.Hannah Baptiste, 19.Reece Scott, 21.Mariam El-Masri, 23.Shyla Murray.
Head Coach: Dr Ivan Joseph
Referee: Francia Gonzales (Mexico)