T&T Men romp home 9-0
TTFA Media
March 28, 2022
0 Comment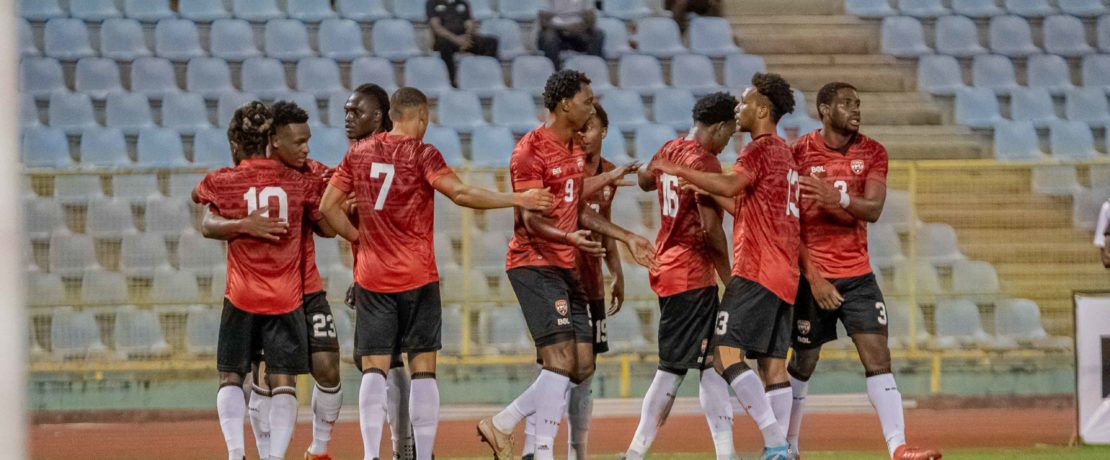 T&T MEN START COURTS CLASSIC WITH 9-0 WIN

Trinidad and Tobago's Senior Men romped home to an emphatic 9-0 victory over Barbados in Friday's International Friendly to kick off the Courts Caribbean Classic at the Hasely Crawford Stadium.
Greece-based forward Levi Garcia led the scoring a hat-trick (27th, 35th and 40th minutes), with Ryan Telfer (29th and 60th) and Nicholas Dillon (68th and 78th) contributing a brace each Reon Moore (80th) and John-Paul Rochford (83rd) were the other scorers on an impressive night for the hosts.
The first half, we started the game sloppy. We weren't moving the ball as fast as we could, but I thought that was understandable because the team (are) now starting to gel.

"I thought the second half it was much better," added the former TT midfielder and captain. "We moved the ball, the finishing was very clinical. We probably should have scored a couple more goals but when you (score) nine, you'll take that."

Garcia notched his first hat-trick for T&T, and the AEK Athens attacker mentioned, "I feel really good, most (importantly) we came out with the victory.

"It's always a blessing to score, I scored a hat-trick and I'm really happy about it," added Garcia, who played in the false-nine position on Friday.

Telfer, who was reverted back to his role as winger, after being used as a striker for most of 2021, commented, "It's important for us to get on the right foot, to play our first game back on home soil, in front of a large crowd, in my opinion, for a while.

"Football has been missing in Trinidad and Tobago for almost two years now and it's a good start to come off with a victory," he added. "It's important for us to keep building on that."

Playing before an appreciative audience of approximately 2500, Eve placed emphasis attacking power on the field, the likes of Garcia, his younger brother Judah, Telfer, Estonia-based midfielder Andre Fortune, Keston Julien and Jesse Williams, all linking well and giving the appreciative crowd much to cheer, when going forward. Eve also gave a holding central midfield role to USA-based Mekeil Williams.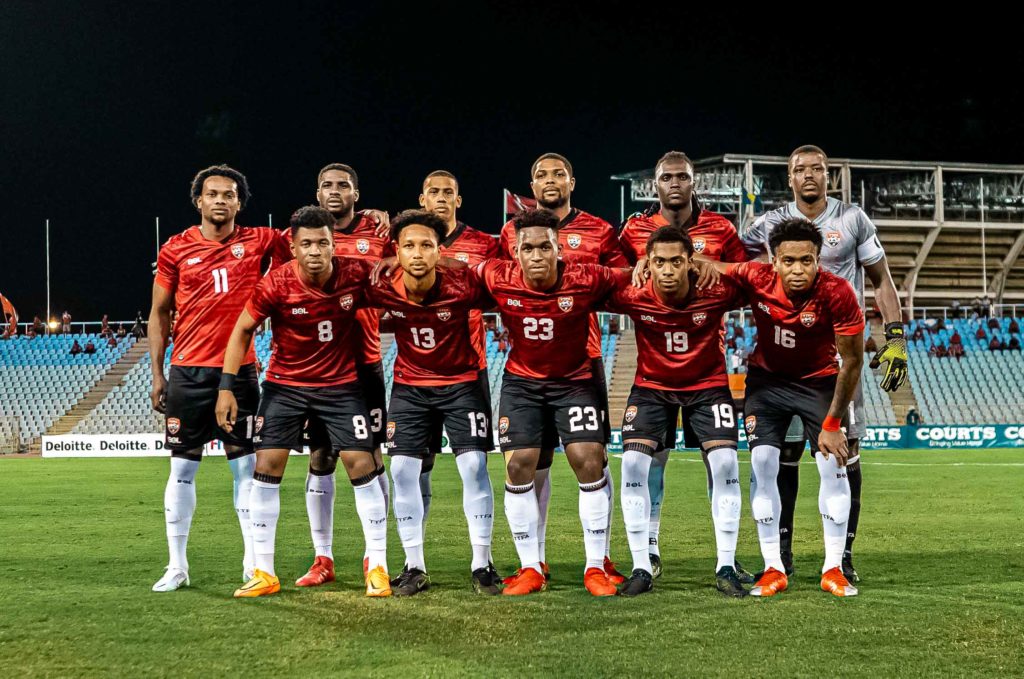 Barbados did not have a look at the T&T goal until the 21st minute when T&T captain and goalkeeper Marvin Phillip was at full flight to keep out Mario Williams' free-kick as it headed to the far corner. Phillip had made two other telling interventions before the first half ended.
Playing direct, route-one football, Barbados, without head coach Russell Latapy on the sidelines due to a medical emergency, had a decent spell midway through the first half, but never the talent resources to exploit the moments when T&T looked less intent and assured.

It was one of those positive moments, when Barbados looked about to score the opening goal, when T&T struck from a quick counter-attack at the other end. Phillip quickly gathered the ball and punted down field to Garcia, who netted from an acute angle after going around the Bajan keeper.

Telfer powerfully put in the second two minutes later after a Fortune square ball, and Telfer's fancy footwork and through-ball earned Garcia a simple tap past the keeper for his second goal. A powerful downward header gave Garcia his hat-trick and both Fortune and Telfer had further chances to score before the half ended.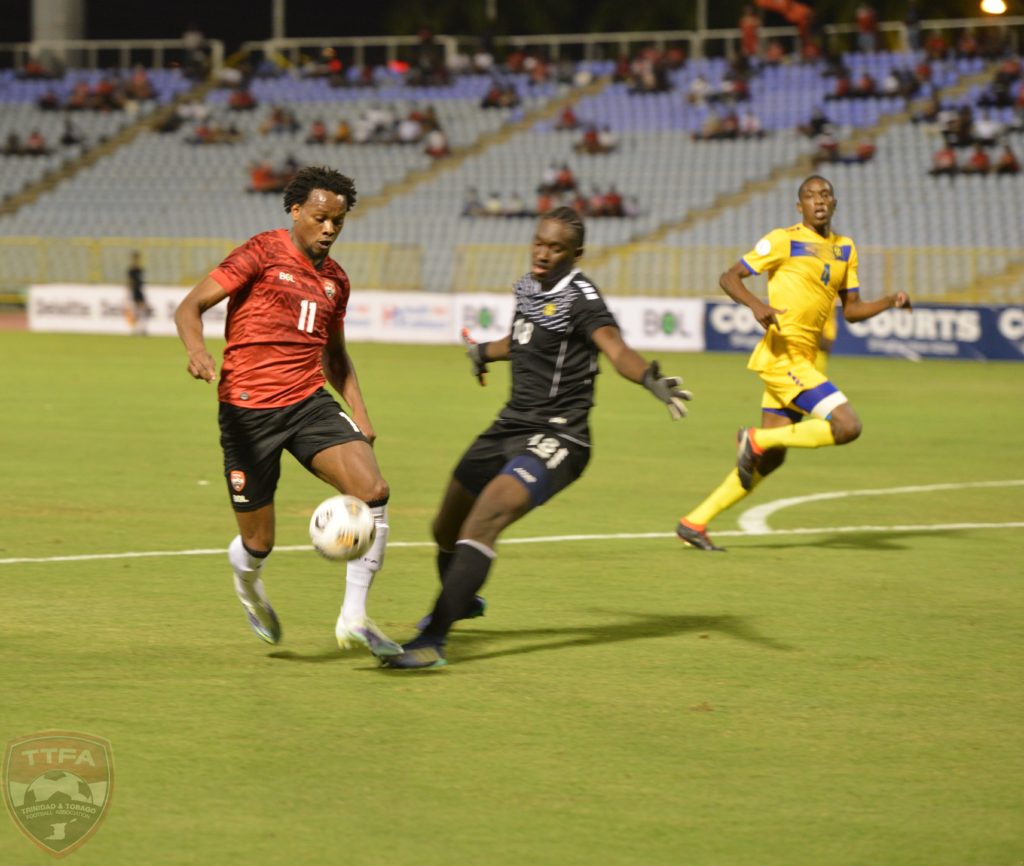 "We saw a lot of good things to build on. We have seen the experience of playing abroad. Just a cut above the others," stated T&T technical director Anton Corneal. "It could have been more goals."
Barbados looked the more eager to score early in the second half and would have except for central defender Kareem Moses sliding in to keep Hadan Holligan's shot out of the goal.

T&T would wrap up the game with a few more goals, while Eve withdrew Levi Garcia, and also gave Duane Muckette, former national youth striker Nicholas Dillon, Jean Paul Rochford, Kevon Goddard, Neveal Hackshaw and Reon Moore a run.

Cutting inside, Telfer put a bullet off the crossbar for 5-0 and Dillon was on the field for about two minutes when he had a free look at the Barbados goal and scored for 6-0, before flicking the ball in from close-up for his second goal. Moore's slashing run into the penalty area yielded an eighth goal.
Former youth team captain Rochford probably left the best for last when cutting in from wide and putting the ball into the roof of the net. The fans who paid to see football left reasonably satisfied and gave the team a standing ovation at the end.

T&T faces Guyana in the Courts Caribbean Classic finale from 7pm on Tuesday at the Port of Spain venue.

T&T squad
Marvin Phillip (GK) (captain); 23. Jesse Williams, 3. Kareem Moses, 2. Aubrey David, 16. Keston Julien; 17. Mekeil Williams (15. Neveal Hackshaw 74); 19. Noah Powder (24. Kevon Goddard 84), 8. Andre Fortune II (10. Duane Muckette 65); 7. Ryan Telfer (14. John-Paul Rochford 74), 11. Levi Garcia (9. Nicholas Dillon 65), 13. Judah Garcia (12. Reon Moore 74). Unused substitutes: 21. Denzil Smith (GK), 4. Leland Archer, 5. Samory Powder, 6. Radanfah Abu Bakr, 18. Triston Hodge, 20. Jabari Mitchell, 25. Justin Sadoo. Coach: Angus Eve

Barbados squad

Liam Brathwaite (GK); 20. Nicoli Brathwaite, 4. Mario Williams (2. Ricardio Morris 80), 8. Ackeel Applewhaite, 5. Jamaal Watson-Cummins (3. Ramon Manning 46); 6. Jomo Harris; 11. Azarel Croney, 13. Darico King (17. Akeem Hill 46), 10. Hadan Holligan (captain), 7. Nadre Butcher (14. Kevon Lucas 80); 19. Armando Lashley. Unused substitutes: 1. Kishmar Primus (GK), 15. Lemar Catlyn, 16. Shay Prescod, 12. Honor Bradshaw, 9. Keon Atkins. Assistant-coach: Fitzgerald Carter.
Referee: Cecile Hinds