T&T and Panama play to another draw
TTFA Media
October 26, 2021
0 Comment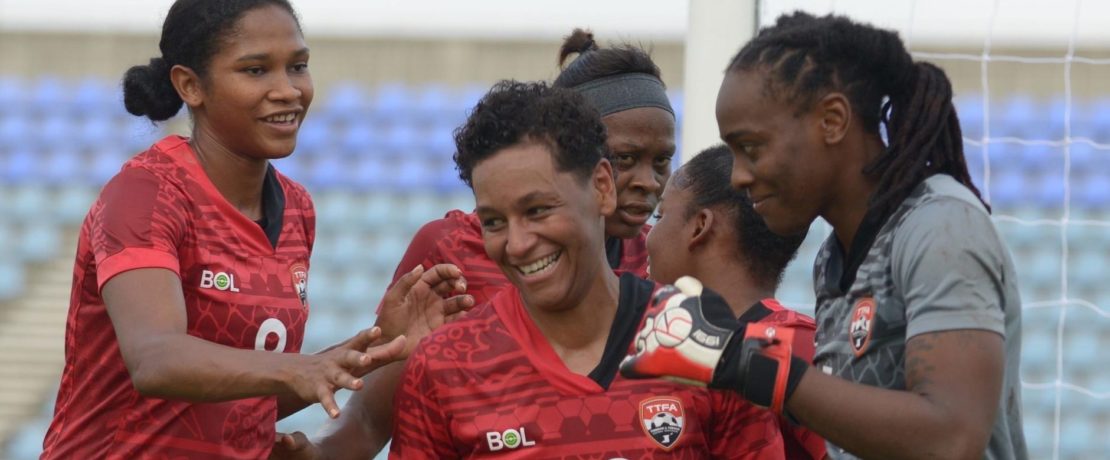 Trinidad and Tobago Women remained unbeaten in their two-match series with Panama as both nations battled to another entertaining draw, 1-1, in their second international friendly at the Ato Boldon Stadium on Monday evening.
T&T were out the blocks early and capitalised on an early chance when Norway-based attacker Kennya Corner sneaked one past Panama goalkeeper Farissa Cordoba to put T&T ahead after just seven minutes. Cordner latched on to a lofted pass by Victoria Swift and kept her composure to slot home from close range. That was Cordner's 39th goal for T&T. The early setback seemed to have surprised the visitors who had probably expected to seize the early initiative by dominating early possession as they did in the 0-0 draw on Thursday. But this time Kenwyne Jones' team were more composed and seemed ready for the challenge.
Karyn Forbes struck the woodwork for the second straight encounter, this time seeing her effort come back off the crossbar after goalkeeper Farissa Cordoba got a hand to it. That play followed a penalty save as T&T's Kimika Forbes moved smartly to her left to deny Mexican-based Marta Cox. The penalty was a result of Victoria Swift's challenge on Carina Baltrip Kings. Forbes also did well to deny a shot by Schiandra Gonzales.
Panama, though a goal down, kept organized in their approach and picked their passes well but could not find a way past Forbes and her defence before the interval.
As the minutes ticked on T&T came close to doubling their advantage but Cordoba was up to the task, denying Cordner and substitute Laurelle Theodore.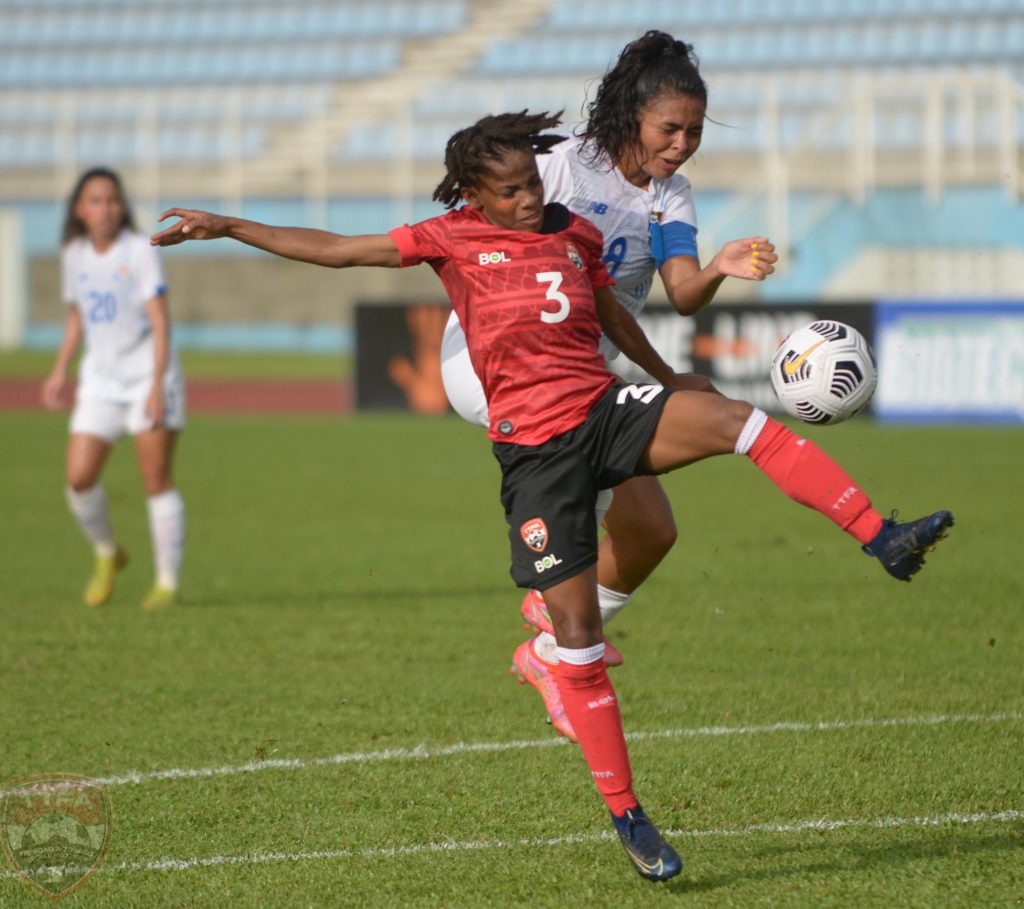 With the clock winding down, Panama kept faith and grabbed the equalizer in the 88th when Cox's corner was met by Baltrip-King got her head to the ball first, directing it in between Forbes and Meyah Romeo. There was a brief downpour during this period and it seemed that Panama would try to steal a late winner. Forbes had to pay attention to deny an acrobatic attempt by substitute Lineth Cedeno. Action switched to the other end as it was the resilient T&T that almost snuck one in when Theodore was sent through on goal but saw her effort go agonizingly wide of the left post.
T&T head coach Kenwyne Jones expressed a fair amount of satisfaction with the showing from the T&T ladies.
"At this present time in such a short space of time, I am happy with the stage that we're at. Of course I am disappointed that Panama was able to equalize from a setplay so late in the game. I do believe that the team does have a lot more room for improvement and I think everyone, the players, the staff, we all can agree on that. But I do believe that we're very happy with the performance we've had so far," Jones said in the post-game press conference.
"Firstly I do think that we're presently happy with the way the team made a lot of adjustments… tactically from the first game the way that we played, to the second game, we did a little bit more and I'm happy to see the players were able to take it on and attempt to make it happen. Definitely in the future we are going to get better at it. This again is not the final squad," he added.
"Every single one of the ladies I have to praise today for their continued effort, their continued drive and also for receiving the information that we give and trying to implement it on the pitch. Rhea had a fantastic performance, also Yaya (Cordner) had a fantastic performance. Anya did well as well because we asked her to play a different role today."
See Jones' Comments in the Post-Match Press Conference below.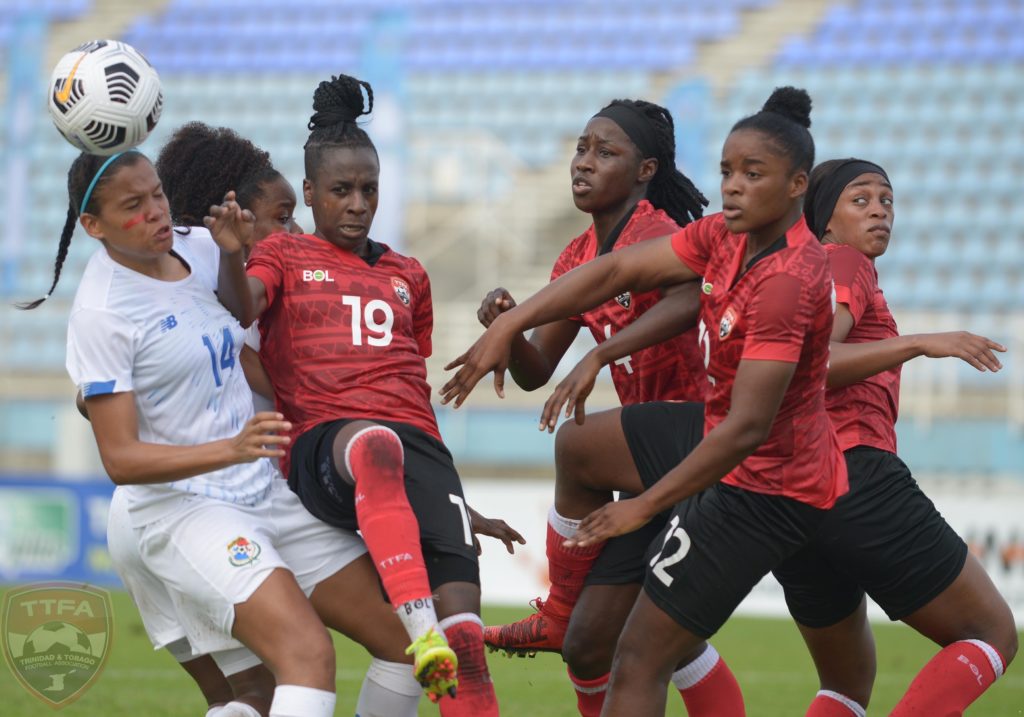 Trinidad and Tobago : 1.Kimika Forbes (GK), 8.Victoria Swift,4.Rhea Belgrave; 20.Lauryn Hutchinson (5.Meyah Romeo 46′), 7.Liana Hinds; 12.Chelcy Ralph, 14.Karyn Forbes (captain); 10.Anya de Courcy, 3.Aaliyah Prince (15.Laurelle Theodore 58); 11.Raenah Campbell (13.Dennecia Prince 76′), 19.Kennya Cordner (18.Naomie Guerra 81′).
Unused Substitutes: 21.Tenesha Palmer (GK), 22.Malaika Dedier (GK), 2.Collette Morgan, 16.Janelle McGee,23.Adrianna Arjoon,
Head Coach: Kenwyne Jones
Panama: 1.Farissa Córdoba (GK); 14.Yerenis De Leon, 6.Aldrith Quintero (19.Lineth Cedeño 55),2.Yirsi Salas (11.Yvamara Rodriguez 80′),3.Carina Baltrip; 4.Katherine Castillo, 7.Deysire Salazar, 8.Laurie Batista [captain] (17.Yamileth Palacio 62′); 10.Marta Cox,9.Karla Riley (18.Ana Quintero 80), 20.Schiandra Gonzales (16.Whitney De Obaldia 62);
Unused substitutes: 12.Nadia Ducreux,15.Susy Cassinova. 13.Izaura Tryhane,
Head Coach: Ignacio Quintana
Caution – Lineth Cideno (Pan, 57′)
Referee: Cecile Hinds (TT)
Assistant Referee 1 – Caleb Wales (TT)
Assistant Referee 2 – Ainsley Rochard (TT)
Fourth – Nikolai Nyron (TT)