Three points to start the campaign
TTFA Media
February 18, 2022
0 Comment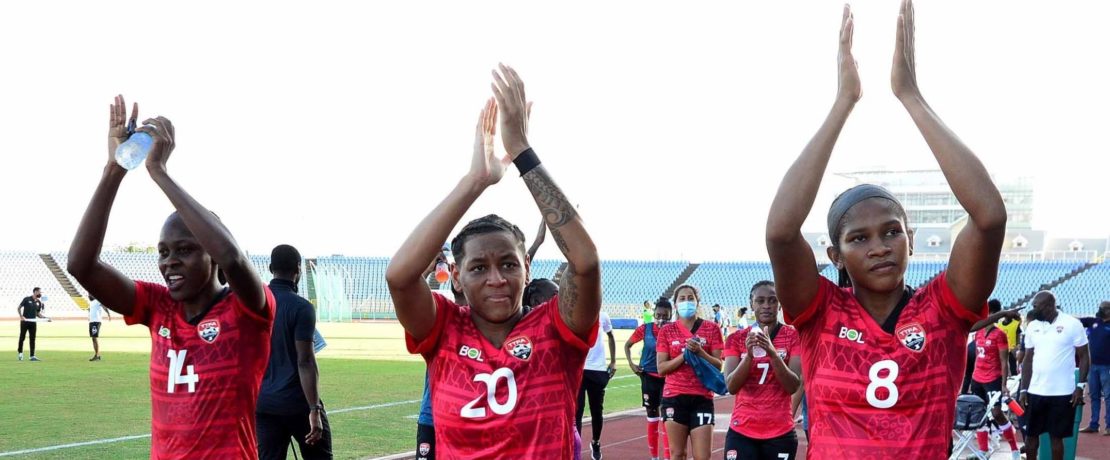 Trinidad and Tobago's Senior Women footballers got their 2023 CONCACAF W World Cup qualifying campaign off to a winning start with a 2-1 victory over Nicaragua at the Hasely Crawford Stadium on Thursday evening.
Goals from Asha James in the 17th minute and captain Karyn Forbes in the 64th sealed the three points for the hosts. Nicaragua pulled a goal back in stoppage time through Yessenia Flores.
T&T's Kedie Johnson was sent off in the closing stages of the first half after getting her second yellow card but it did not deter the homeside from staying in control of proceedings against the Central Americans.
A few hundred fans showed up to support TT and despite the fairly small crowd, they voiced their opinion throughout the contest including their disagreement with the referee's decisions.
Jones commended his players for their fight playing with ten players and facing the hot conditions.
"It was really hot. I think the timing of the game was rough, but both teams played in those conditions and like I said to them before it was about you being able to win your individual battles."
Goalscorer James was pleased with her performance saying, "My performance I think it could have been much better…(in terms) of the team performance I am definitely satisfied with the 2-1 win. We could have scored a lot more chances, but the three points is what we came for and we got it."
James said that the team started to train around 3 pm recently to adjust to the hot conditions.
In the early stages of the contest, no team took control of the match.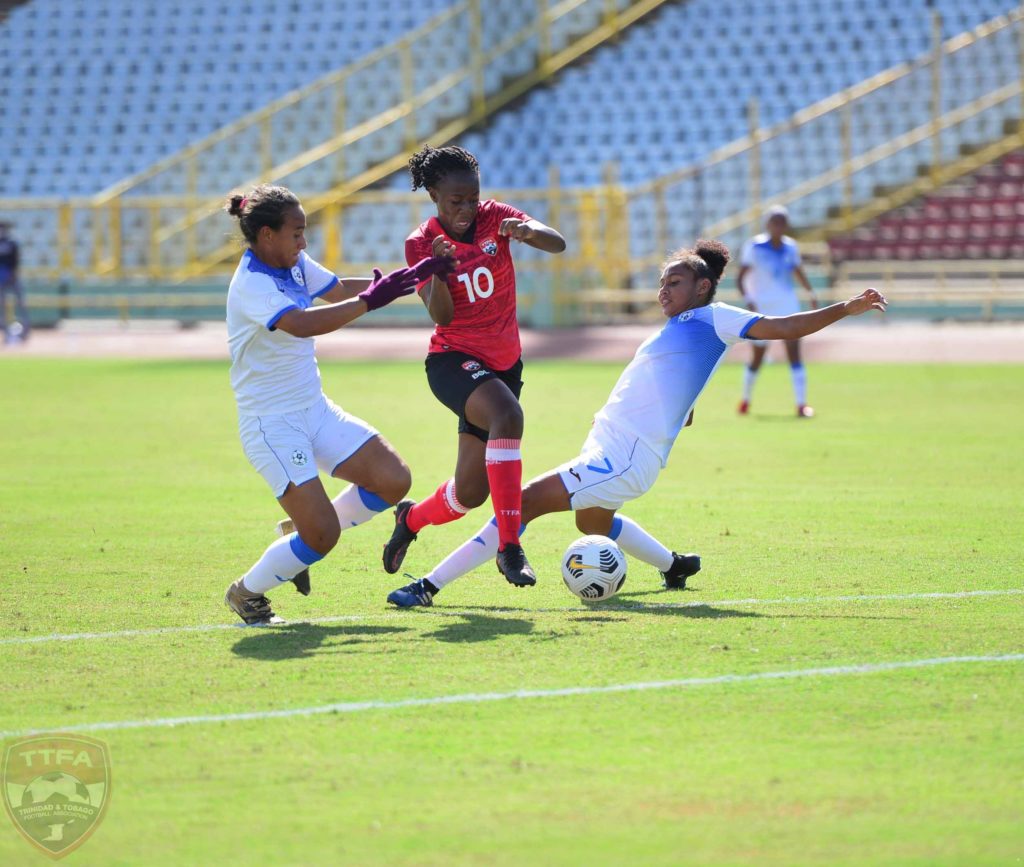 It was T&T who threatened early on thanks to Maria-Frances Serrant, who plays for Corban University in the USA, leading some nice build-ups by the local team but didn't get a shot at goal.
T&T rewarded with its opening item from midfielder Asha James in the 17th with an assist from defender Lauryn Hutchinson, who dribbled through the defence. She slipped the ball to James, who gave it a soft touch to get the lone defender and scored past Nicaraguan goalkeeper Bethania Aburto.
T&T kept pushing, earning several corners and had their second goal, off a header from defender Rhea Belgrave in the 28th but she was deemed off-side by the linesman.
Two minutes later, Nicaragua's best chance in the first half came just before the first water break in the 30th when defender Sheyla Flores caught T&T goal-keeper Kimika Forbes off her line but her long-range shot, thankfully for the T&T custodian, went over the bar.
On the return to the field, the Nicaraguans kept pressing searching for the equaliser but T&T kept them at bay.
T&T, though, went down a player in the 44th when Kedie Johnson was booked her second yellow card and shown the red card by referee Lizzet Garcia after the midfielder got her hand to the face of Yessenia Flores. Nothing resulted from the free-kick and the scoreline remained unchanged at the half.
On the resumption, Nicaragua up a player continued to press in search of its opening goal but it was T&T earning another corner kick, 14 overall, in the 49th. Liana Hinds put in a good ball but it was cleared to the sideline by a Nicaraguan defender. The ensuing throw-in saw James take a nice long-range shot but it went wide of goal.
Down the other end, Karyn Forbes was called for a handball at the top of the box. Off the set play, …tried to go through the two-player wall but it deflected wide of the goal off a Nicaraguan player
In the 54th minute, keeper Forbes gave her team a scare when she landed badly grabbing her left ankle and seemed to be in a lot of pain but remained in the match after being treated by the training staff.
T&T's second goal came in the 64th. A good shot by Cayla McFarlane was saved initially by keeper Aburro but Karen Forbes netted the rebound, scoring her seventh international goal.
McFarlene, who did her job was substituted by coach Jones and replaced by Dennecia Prince in the 67th minute.
T&T unfortunately was down to nine players in the 79th. Belgrave had to stretchered off after suffering cramps early in the second half. Her replacement Abisha Guy entered in the 85th.
This after coach Jones was faced with another issue after keeper Forbes went down again after leaping to ensure a ball was safely over the bar but in turn, seemed to aggravate her injury. She was stretchered off and coach Jones was forced to bring in his last substitution, in the form of Tenesha Palmer to protect the goal in the five minutes added-on time.
Nicaragua kept the pressure on and in the final second of added-on time pulled a goal back through Flores. The forward dribbled through three players made a move on her left and then scooped the ball off her right-foot past substitute keeper Palmer, to reduce the visitors' deficit with less than a minute to play.
T&T will take on Dominica in Guyana on Sunday, and then play Turks and Caicos Islands on April 9, and Guyana on April 12 at home to close out the round-robin pool campaign. At the end of this stage, the top team will qualify for the next phase of the competition.
Trinidad and Tobago 1.Kimika Forbes (GK) (21.Tenesha Palmer [GK] 89); 7.Liana Hinds, 4.Rhea Belgrave (2.Abishai Guy 84), 8.Victoria Swift, 15.Kédie Johnson; 16.Cayla McFarlane (13.Dennecia Prince 66), 10.Asha James, 18.Maria-Frances Serrant (3.Shani Nakhid-Schuster 83); 20.Lauryn Hutchinson; 14.Karyn Forbes (captain);9.Amaya Ellis (12.Chelcy Ralph 67),
Unused substitutes: 22.Klil Keshwar (GK), 5.Shaunalee Govia, 6.Kaydeen Jack, 17.Maya Matouk, 19.Meyah Romeo.
Head Coach: Kenwyne Jones
Nicaragua: 1.Bethania Aburto (GK); 3.Kesly Perez, 2.Martha Silva, 7.Yorcelly Humphreys (13.Jansy Aguirre 71), 5.Lisbeth Moreno; 4.Jaclyn Gilday (17.Josseling Berrios 81); 6.Lilieth Rivera; 14.Dayana Calero, 10.Sheyla Flores (captain); 9.Simri Villareyna (6.Natalie Orellana 46), 11.Yessenia Flores.
Unused substitutes: 12.Angela Gutierrez (GK), 8.Heyssel Martinez, 15.Reyna Hernandez.
Head Coach: Elna Dixon
Referee: Lizzet Garcia (Mexico)