Senior Men go down 5-0 to Bolivia
TTFA Media
January 22, 2022
0 Comment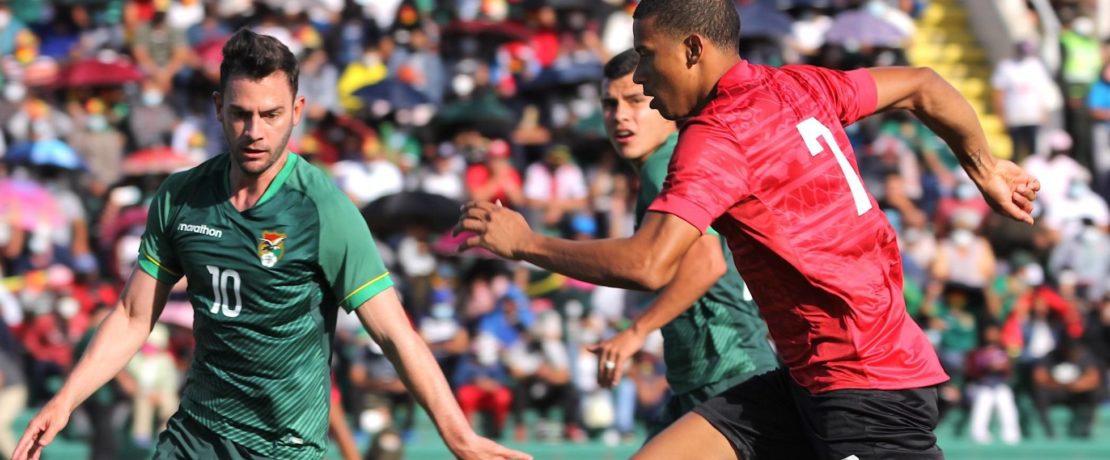 Senior Men go down 5-0 to Bolivia

Trinidad and Tobago's Senior Men went down 5-0 to Bolivia in their opening international friendly for 2022 at the Estadio Olimpico Patria in Sucre on Friday evening.
Playing before an estimated 23,000 fans at 9,000 ft above sea level, the Mekeil Williams captained team struggled to cope with the conditions against a much more oiled Bolivian unit which opened the scoring in the 35th minute through Juan Carlos Arce from the penalty spot.
Until that point T&T were far from outplayed but the challenges with fitness, having not played an international match since the Concacaf Gold Cup in July last year coupled with no domestic football over the pandemic period, plus the high altitude did prove to be too much for Angus Eve's men.
But the exercise was not all depressing as debuts for 17-year-old midfielder Malik Khan and John-Paul Rochford was on the cards as Eve pointed out in his post-game comments to be positives coming from the Sucre experience.
Bolivia were out the blocks early and had two early cracks on goal inside the opening four minutes but it was the visitors who almost stole the lead when Alvin Jones' ball from the right bounced inches past the far left post after he received a ball which sliced the Bolivian defence.
T&T would concede just before the half-time break through Rodrigo Ramallo when he hammered home from 20 metres out to beat goalkeeper Adrian Foncette while Marcelo Martins Moreno tripled the advantage in the 52nd and Leonel Justiniano Arauz added a fourth in the 63rd minute. Bruno Miranda made it 5-0 in the 87th minute.
"I was not expecting the result but I expected the way it would have gone when we took the game," Eve said in the post-game flash interview with TTFA Media.
"It was really difficult from a physical standpoint for the players and once your physicality goes, the technical part of tends to go. We played a very good team tonight.
"The guys fought, they were resilient sometimes," he added "We went about 30-something minutes without conceding and then we conceded some soft goals. But there were a lot of positives."
"Molik Khan coming on–he looked well–young Rochford tried to do some stuff. I thought Jamal Jack was solid at centre-half. Alvin Jones. I thought Foncette was good. So there were positives coming out of the game."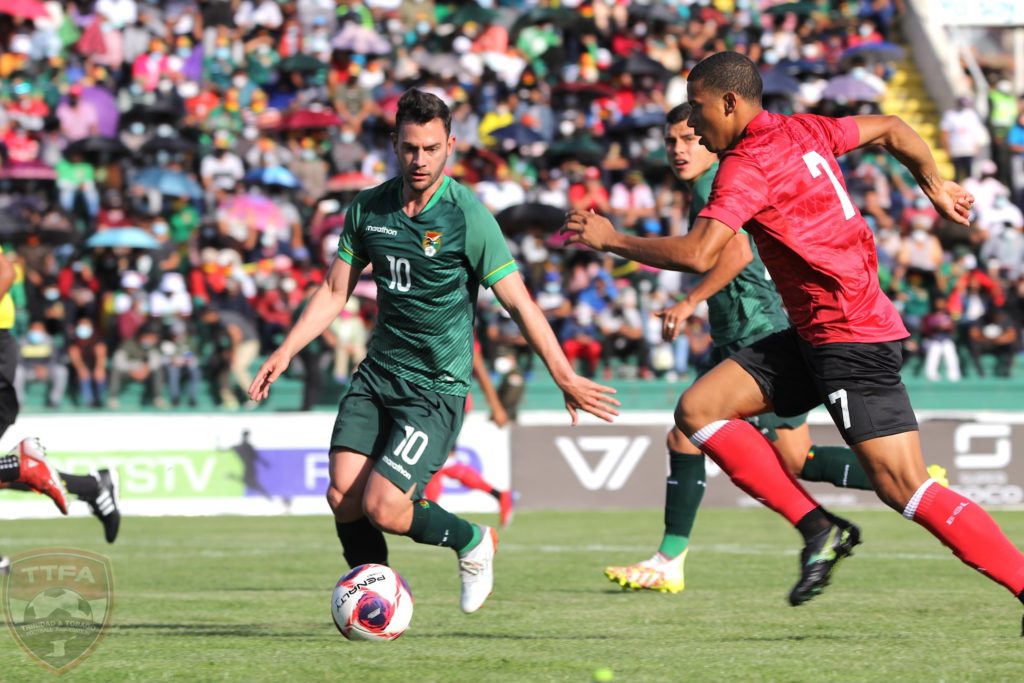 Trinidad and Tobago – 22.Adrian Foncette (GK); 5.Jamal Jack, 16.Alvin Jones, 6.Radanfah Abu Bakr, 17.Mekeil Williams (captain), 23.Jesse Williams (13.Reon Moore 46'), 15.Neveal Hackshaw (14.Hashim Arcia 46), 11.Noah Powder; 20.Ajani Fortune (10.Molik Khan 46'); 7.Ryan Telfer (19.Matthew Woo Ling 80'), 18.Justin Garcia (8.John-Paul Rochford 61').

Unused substitutes: 1.Marvin Phillip (GK), 2.Stephon Marcano, 3.Keston George, 12.Michel Poon-Angeron.

Head Coach: Angus Eve

Bolivia : 1.Carlos Lampe (GK); 8.Diego Bejarano,21.Jesús Sagredo (3.Alejandro Chumacero 54'); 5.Adriano Jusino (4.Luis Haquin 67'), 16.Erwin Saavedra (19.Marc Enoumba 67), 7.Juan Carlos Arce (2.Yesit Martínez 79'),10.Fernando Saucedo (6.Leonel Justiniano 54), 14.Moisés Villaroel, 18.Rodrigo Ramallo (22.Juan Alexis Ribera 67'); 11.Bruno Miranda, 9.Marcelo Martins (captain).

Unused substitutes: 12.Daniel Vaca (GK), 23.Jhohan Gutiérrez (GK), 13.César Menacho, 15.Rai Lima, 17.Carlos Áñez, 20.Henry Vaca.

Head Coach: César Farías
Go here for Match Photos Gallery
See Game highlights courtesy official game broadcaster Tigo Sports