Eve closer to Final 24
TTFA Media
May 27, 2022
0 Comment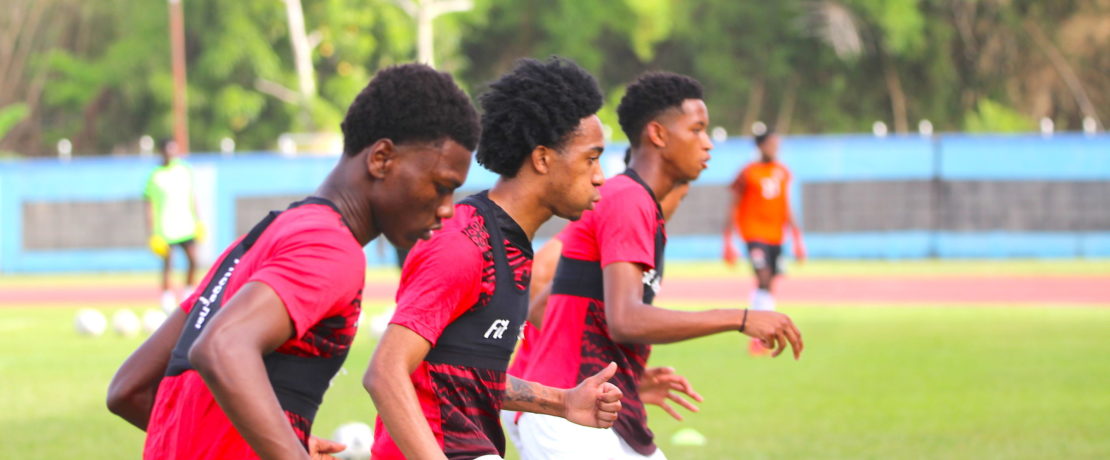 Eve closer to Final 24
Trinidad and Tobago's U-20 Men's team head coach Angus Eve is a couple days away from trimming his squad to twenty four players for the upcoming CONCACAF Men's U-20 championship in Honduras.
Eve has had a provision squad in a residential camp at the TTFA Home of Football for the past couple of weeks. On Thursday, T&T lost 1-0 to Guyana's Senior Men's team at the Ato Boldon Stadium in a closed door training match. They will face Police FC today at 4pm at the same venue.
"Most of the players came in from abroad and the other half of the players are from the screening that we've done in Trinidad and Tobago," Eve said. We've done extensive scouting in North America and all over. We recruited guys who have different backgrounds in Europe. We've been training once a day because of the humidity. It's been going really well, the guys have been working very hard and it's been very competitive."

"I want to play the way we normally play in Trinidad and Tobago, I want to express that, allow the kids to express themselves in the final third, really put the skills and talent that they have, I am not putting any restrictions on that.
But obviously, in our half, we want to be resolute, be very solid defensively so we could build a platform for these players to go forward and express themselves."

The T&T U-20 Men's Team will come up against Haiti, Suriname and Mexico in opening group phase action at the CONCACAF championship and Men's U-20 World Cup qualifiers in Honduras next month.
Provisional Squad in Camp

Goalkeepers

Tristan Edwards – Fatima College
Kanye Lazarus – Police FC
Rushon Sandy – Patuxent Football Athletics (USA)
Jahiem Wickham – Toronto FC (Wickham)
Defenders

Christian Bailey – Defence Force FC
Isaiah Edwards – Police FC
Jaron Pascall – Police FC
Josiah Cooper – Club Sando
Marvin Waldrop – Club Sando
Jaheim Joseph- W Connection
Shervohnez Hamilton – Petit Valley Utd
Jabari Henry – Petit Valley Utd
Diego Nanton – International Centre for European Football – (France)
Noah Roka – FC Stadieu (Austria)
Tino Quamina – Arsenal FC (UK)
Midfielders
Luke Phillip – Deportivo Point Fortin
Lindell Sween – Cunupia FC
Andrew DeGannes – Atlanta FC
Dantaye Gilbert – FC Malaga City Academy (Spain)
Isaiah Thompson – Unattached (UK)
Tarik Trotman – Hartford Community College (USA)
Xavier O'Neil – Real Oviedo (Spain) 
Curtis De Leon – University Of Alabama Birmingham (USA)
Kaihim Thomas – LH Rangers
Josiah Edwards – Adovarense (Portugal) 
Jeremy Lashley – FC Edmonton (Canada)
Jason Christian Gajadhar – Vaughn Soccer Club (Canada)
Cassidy Davidson – IFAPT (Portugal)
Attackers
Jaheim Faustin – Defence Force FC
Tyrik Lee – W Connection
Real Gill – Terminix La HorquettaRangers
Malachi Celestine – Trendsetter Hawks
Josiah Wilson – Cercle Brugge K.S.V (Belgium)
Zyon Makoul- IAFPT (Portugal)
Nathaniel James – W Connection
Kequon Aaron – FC Schalke (Germany)
Tyrell Moore – Atlanta United (USA)
Wayne Frederick – Duke University