T&T Women off to Turks and Caicos
TTFA Media
April 6, 2022
0 Comment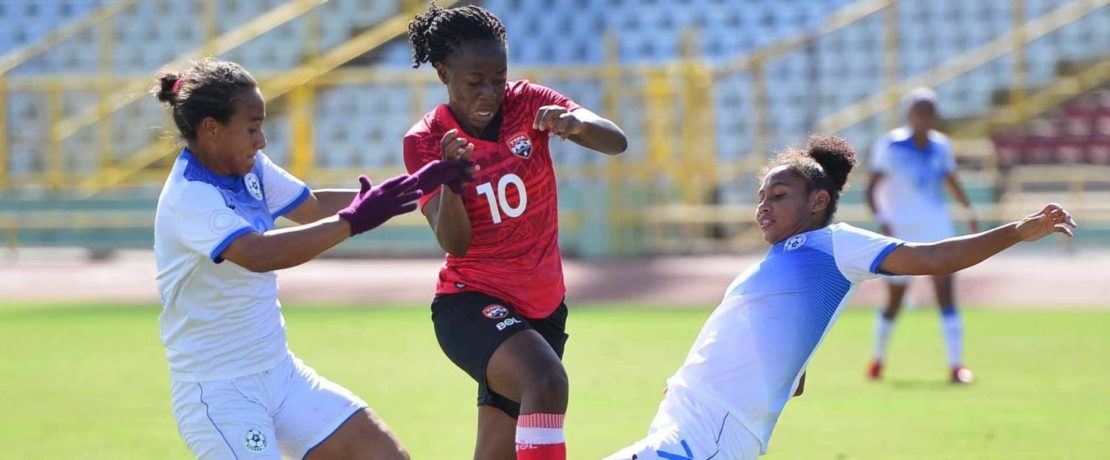 T&T WOMEN OFF TO TURKS AND CAICOS

Trinidad and Tobago's Senior Women's team will depart local shores this morning for Miami where they will be joined by some of the overseas-based pros en route to Cockburn Town for their CONCACAF Women's World Cup qualifier against hosts Turks and Caicos on Saturday.
Head Coach Kenwyne Jones and others members of his staff and playing contingent will overnight in Miami with the full squad assembling in Cockburn Town on Thursday.
The T&T team will be looking for maximum points against Group F cellar placed team in the Group before returning home to face leaders Guyana on April 12th at the Dwight Yorke Stadium, Bacolet, Tobago. Turks, which have lost its two matches in the round so far, face Dominica at Windsor Park, Roseau today (Friday)l. Turks have been hammered by Nicaragua 19-0 and Guyana 7-0 in its previous outings. Group leaders Guyana (6pts), ahead of T&T on goal difference, hosts third place Nicaragua (3pts) on Friday.
I'm expecting them to win the matches. I believe in the talent of the group; I believe in the talent of the individual players," Jones said prior to the team's departure from the residential camp at the Home of Football hotel in Couva.
"I know they are going to give 100 per cent; I know they are going to fight to the end and we just have to make sure that we keep things simple and we play to our strengths and I think we'll be good going into the games coming forward."
Looking at the opponents, he said, "Of course…squads change, players change, coaches change, the way of playing has changed but at the end of the day we are going to go and execute our gameplan in order to attain the three points."
The focus remains on obtaining maximum points in these two matches and in the process secure a berth in the CONCACAF Final Phase of 2023 World Cup qualifiers which takes place in Monterrey, Mexico July 4-18, 2022.
"First things first. In playing the game of football you either play for three points or one point. We are playing to win games, we do not want to play for goal difference…The mindset of our team is to go out and win our games. Whether you win that game by one goal or by 19, at the end of the day once you have three points and won the game, that is all you need."
Tickets for the April 12th encounter with Guyana in Tobago have been priced at $50 (uncovered section) and $100 (Covered). Patrons do not need to be fully vaccinated to attend. Kids Under 12 are free and small coolers will be allowed. No glass bottles will be allowed into the venue.
Tickets will be available at Caribbean Corner Store (Plymouth & Hope)Guys Auto Zone (Plymouth) Urban Lust (Lowlands Mall) Village Bar (Mason Hall) Pablo's Supermarket (Argyle),Dutch Fort Bar and Restaurant (Scarborough) FFVC Apparel (Plymouth) and Hype Clothing – Port Mall (Scarborough).
T&T Squad
NAME CLUB/SCHOOL/POSITION/ SHIRT # D.O.B
Kimika Forbes Unattached GK 1 28/8/90
Chelsi Jadoo Valadares Gaia FC (Portugal) D 2 21/3/98
Shani Nakhid-Schuster Unattached Formerly of Brooklyn College M 3 17/10/93
Rhea Belgrave Police FC (T&T) D 4 19/7/91
Shaunalee Govia Unattached Formerly of University of Mount Olive (USA) D 5 2/11/98
Shadi Cecily Stoute The University of Georgia (USA)D 6 26/10/99
Liana Hinds Hibernian Women (Scotland) M 7 23/2/95
Victoria Swift Club Leon (Mexico) D 8 29/1/95
Amaya EllisJohns Hopkins University (USA) M 9 31/10/99
Raenah Campbell Avantes Chadlkida FC (Greece)F 11 28/2/99
Asha JamesWest Texas A&M University (USA) M 10 5/12/99
Chelcy RalphBall State University (USA) M 12 15/12/98
Dennecia Prince Point Fortin (T&T) F 13 10/8/98
Karyn Forbes Police FC (T&T) M 14 27/8/91
Kedie Johnson Florida International University (FIU) (USA) M 15 19/11/00
Cayla Mc Farlane Harvard University (USA) F 16 10/6/02
Maya Matouk Police FC (T&T) F 17 30/3/98
Maria-Frances Serrant Corban University (USA) F18 14/11/02
Sarah De Gannes Brewton-Parker College (USA) M 19 22/9/02
Lauryn Hutchinson Unattached Formerly of Virginia Commonwealth University (USA) D 20 6/12/91
Tenesha Palmer Police FC (T&T) GK 21 16/9/94
Klil Keshwar St. Francis College (U.S.A) GK 22 17/7/00
Alliyah Trim FC Ginga (TnT) D 23 27/3/04