T&T U-20s bow out of Championship
TTFA Media
June 30, 2022
0 Comment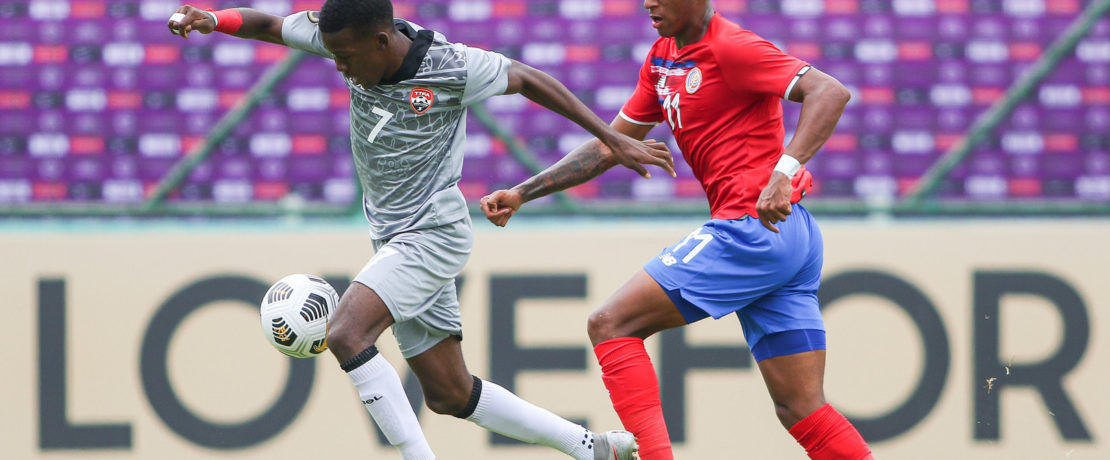 T&T U-20s bow out of Championship
Trinidad and Tobago's U-20 Men's Team bowed out of the 2022 Concacaf Men's U-20 Championship, losing 4-1 to Costa Rica in their Round of 16 match in San Pedro Sula on Saturday.
The defeat ended T&T's campaign, leaving the team with one win, one draw and two defeats in their four encounters.
Defender Jaron Pascall was back in the starting team after a niggling injury forced him to miss the previous 4-1 win over Suriname while fellow defender Jaheim Joseph and captain Molik Khan were starting his fourth straight match of the tournament.
The first half saw both teams even for the opening 15 but there was not much in attack for Angus Eve's men. Josimar Alcócer's 17th-minute penalty separated the teams at the end of the first half. Costa Rica would go on to extend lead through further goals from second half substitutes Shawn Johnson (63rd minute) and Dorian Rodríguez (68th & 78th), before captain Molik Khan (87th) got T&T a consolation when turning in a pass from striker Nathaniel James.
T&T goalkeeper Tristan Edwards, in his second appearance of the tournament, made several solid saves to prevent the Central Americans from scoring further on his side.
Costa Rica got their go ahead item when T&T defender Jaheim Joseph seemed to make no deliberate move to handle the ball when a square pass was drilled onto his arm, but referee Jose Torres pointed to the penalty spot, where Alcócer successfully converted.
T&T had a ten-minute dominant spell early in the second half, but with a triple-change of players, Costa Rica regained control. Two of them were responsible for the goal T&T conceded in the second half.
Johnson simply had to sweep a low shot in at the far post for 2-0 in the 63rd minute, while some of the T&T defenders forgot their primary role. Another substitute, Rodríguez, made full use of weakening T&T legs and spirit, by scoring twice within ten minutes.
Goalkeeper Edwards put in a brilliant push to keep out a low shot which was headed to the corner of his net, but Rodríguez was sharper to the ball than T&T's defenders and swooped in the rebound. T&T's collective inability to defend well, was clearly evident when Rodriguez put a free, looping header onto goal with two central defenders caught watching the action.
The ball sailed over goalkeeper Edwards and came off the underside of the crossbar in the 71st minute.
But when Rodriguez ran in between two T&T defenders onto a short pass, Costa Rica had a fourth goal and the match was over, barring Khan's getting a late send-off.
See Post-Game Reactions below
Trinidad and Tobago : 18.Tristan Edwards (GK); 2.Christian Bailey (17.Andrew De Gannes 75′), 5.Jaron Pascall, 14.Josiah Cooper, 13.Noah Roka; 15.Micah Cain (9.Real Gill 46′), 16.Tyrik Trotman, 3.Marvin Waldrop (7.Kaihim Thomas 29′);4.Jaheim Joseph (11.Nathaniel James 46′); 10.Molik Jesse Khan (C), 6.Kassidy Davidson (8.Luke Phillip 75′),
Unused substitutes: 1.Jahiem Wickham (GK), 12.Josiah Wilson, 19.Isaiah Thompson, 20.Tarik Lee.
Head Coach: Angus Eve
Costa Rica : 18.Bayron Mora (GK); 13.Keral Ríos (21.Kendrick Enríquez 76), 4.Brandon Calderón, 5.Santiago Van Der Putten (captain), 3.Douglas Sequeira, 14.Timothy Arias, 8.Creichel Pérez, 11.Josimar Alcócer (15.Jostin Telleria 76), 16.Andrey Salmerón (10.Brandon Aguilera 56), 7.Andrey Soto (12.Shawn Johnson 56), 20.Enyel Escoe (9.Dorian Rodriguez 56)
Unused substitutes: 1.Abraham Madriz (GK), 19.Johel Alemán, 22.Denilson Vargas.
Head Coach: Vladimir Quesada
Referee: Jose Torres (Puerto Rico)