Futsal coach calls Squad for training ahead of Concacaf qualifiers
ttfa
March 8, 2020
0 Comment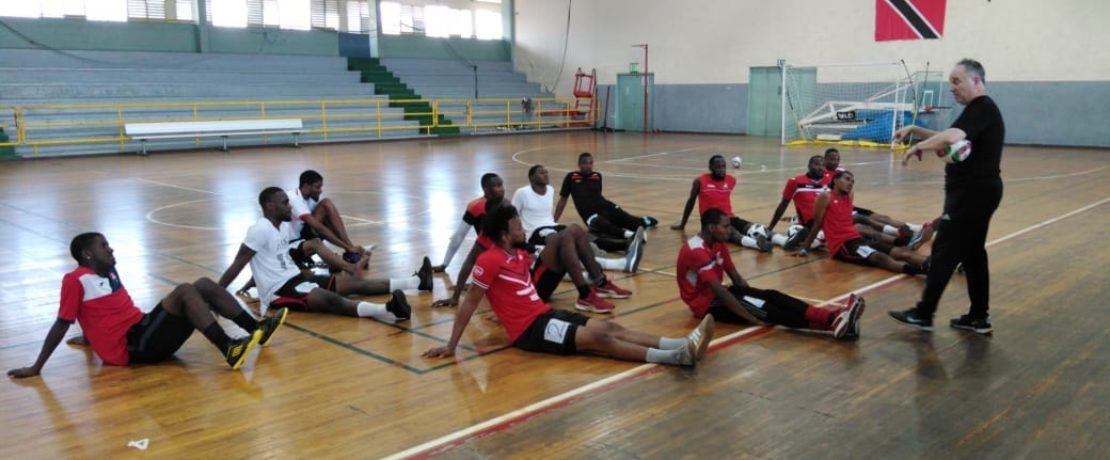 Futsal coach calls Squad for training

Men's National Futsal Team head coach Constantine Konstin has called a pool of players to attend the next three training sessions as he continues preparations ahead of the CONCACAF Futsal Championship in Guatemala City in May.
The sessions are carded for Tuesday 10th, Thursday 12th and Saturday 14th March 2020 at the Ato Boldon Stadium outdoor area next to the Beach Soccer Pitch Each session begins at 6:30 pm and persons are required to be present thirty (30) mins prior to the start with a red and white jersey.
"What I noticed immediately is that there is a huge talent pool in this country with both women and men. I was amazed when I came out to see the Pro League games, looking and scouting for players, by the amount of amazing skillful players, explosive players, talented and athletic players that there are. So I feel confident that we can put a great team together and do our best to get to Lithuania in September," Konstin told TTFA Media.
"I can tell you that with the quality of players you have there is no reason why Trinidad and Tobago shouldn't be one of the top forty countries in the world. Iceland did it and they have a population of 300,000 and I know that they don't have a talent that you have here. But they have a coaching education that is huge so that helps a lot. The talent is here and you just need to get out there and find the right people who want to be coaches
"We have put a pool together so our goal is to start training three days a week and then we'll add sessions as we get closer to the tournament. We have to be patient as a lot of the players are also playing in the Pro League here. Right now the focus is the next set of training sessions at Ato Boldon.
"The beauty about soccer and futsal is that you play with a ball and with your feet but there are other aspects as in both soccer and futsal there has to be a high IQ and skill. In futsal you have to have more IQ and skill because you are playing in smaller, tight areas," Konstin added.
Players Called for Training
Non-Pro League / Unattached
Russell Alfred, Keston Guy, Dwayne Edwards, Omri Beard, Denrick Eve, Cyrano Glen,Kareem Perry, Jokiah Leacock, Kwesi Peterson, Shane Hospedales, Nicholas Alfred, Jayson Joseph, Andrew Tinto, Dejon Roper. Kern Cupid.

PRO LEAGUE CLUBS:
CUNUPIA FC -Kevon Woodley
PT. FORTIN CIVIC – Justin Sadoo
DEFENCE FORCE – Brent Sam, Adrian Welch, Curtis Gonsalves, Jelani Felix, Andre Marchan, Reon Moore, Justin Garcia, Aaron Lester, Dylon King, Jerwyn Balthazar.
AC PORT OF SPAIN – Jean Paul Rochford
W. CONNECTION- Jason Belfon, Mark Ramdeen, Rhondel Gibson

CLUB SANDO -Shaqkeem Joseph, Trevin Caesar
Kelvin Henry GK Darnell Hospedales, Anthony Charles 

LA HORQUETTA RANGERS – Keron Cummings, Tyrone Charles, Jamal Creighton, Jabari St Hillaire GK, Aikim Andrews, Kadeem Corbin, Ross Russell Jr
CENTRAL FC -Jameel Neptune, Sean Bonval, Noel Williams, Cleon John GK
POLICE FC -Theon Brown GK