TTFA STAGES NATIONWIDE FUTSAL SCREENING
ttfa
February 20, 2020
0 Comment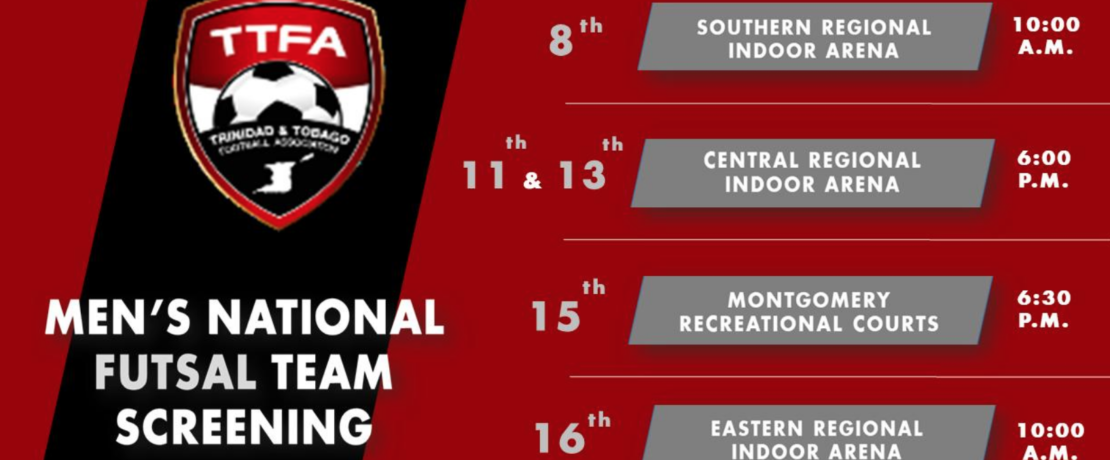 The Trinidad and Tobago Football Association will commence nationwide screening towards selection in the training pool to represent Trinidad and Tobago at the CONCACAF Futsal Qualifiers in Guatemala from 1 to 10 May, 2020. The following are the zones, dates, venues & times for the screening sessions.
SOUTHDates: Saturday 8 February, 2020Venue: Southern Regional Indoor Sport Arena, PleasantvilleStart Time: 10:00 A.M. CENTRALDates: Tuesday 11th AND Thursday 13 February, 2020Venue: Central Regional Indoor Sport Arena, ChaguanasStart Time: 6:00 P.M. TOBAGODates: Saturday 15th February, 2020Venue: Montgomery Recreational CourtsStart Time: 6:30 P.M. EASTDates: Sunday 16th February, 2020Venue: Eastern Regional Indoor Sport Arena, TacariguaStart Time: 10:00 A.M.
Con­stan­tine Kon­stin, a FI­FA and CON­CA­CAF Fut­sal coach­ing in­struc­tor, was recently ap­point­ed coach of the Na­tion­al Fut­sal Team, to con­test the qual­i­fiers for FI­FA Fut­sal World Cup which will be hosted in Lithua­nia.
His as­sis­tants are Dun­stan Williams (As­sis­tant coach and goal­keep­er coach), Mar­vin Drig­gs (train­er), Bren­ton Bain (Physio), Stephen Bernard (Equip­ment Man­ag­er) and Nigel Roberts who was appointed Team Man­ag­er. The T&T team will join 19 oth­er na­tions in the 2020 CON­CA­CAF Fut­sal Cham­pi­onship from May 1-10 in Guatemala City, which will serve as the qual­i­fiers for the World Cup.
The 20 CON­CA­CAF Mem­ber As­so­ci­a­tion for the com­pe­ti­tion are: Cana­da, Cos­ta Ri­ca, Cu­ba, Cu­ra­cao, Do­mini­can Re­pub­lic, El Sal­vador, French Guiana, Guade­loupe, Guatemala, Haiti, Mar­tinique, Mex­i­co, Nicaragua, Pana­ma, Puer­to Ri­co, Saint Kitts/Nevis, Saint Maarten, Suri­name and the Unit­ed States.