Kenwyne gives the 'Thumbs' up to Wallace in new role as TTFA President
ttfa
November 30, 2019
0 Comment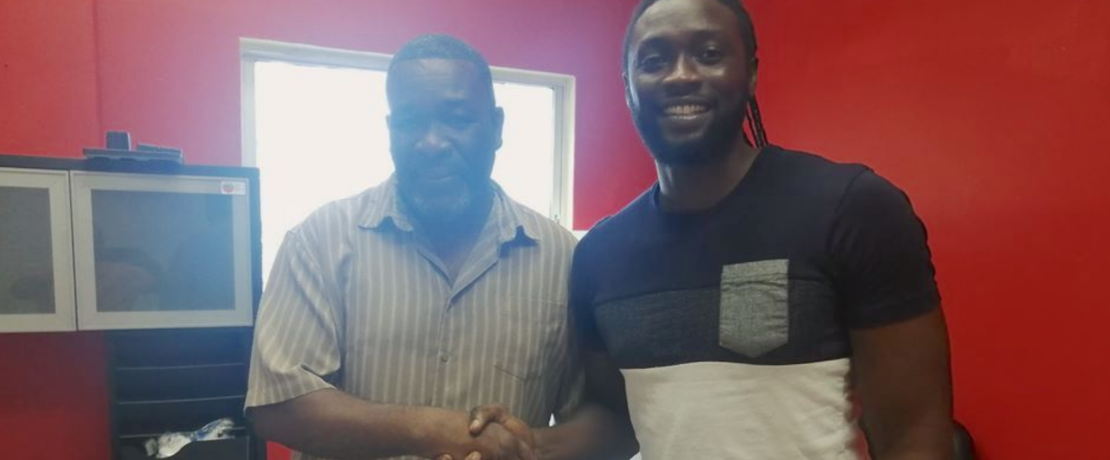 Former Trinidad and Tobago captain and English Premiership striker Kenwyne Jones has given his blessing and vote of confidence to newly elected Trinidad and Tobago Football Association President William Wallace.
Jones, now retired from playing after 82 international appearances in which he scored 23 goals for T&T, made a brief stop at the TTFA head office on Thursday to see Wallace.
"Of course there is hope because what you are going to get from him is integrity, honesty in his words and actions. So for him I can speak or put my trust in that he would be who I know him to be. Of course he is in a situation where he will have other people to answer to, other people's ideas to take on board, those who supported him, what ever the case is and they will have to come up with the best plan for Trinidad and Tobago and Trinidad and Tobago football," Jones told TTFA Media on Thursday.
"But I do believe he is a person, from actually having that experience with him and not being a person reading the news or having that over the fence look of what's going on in the yard, I know he is going to be himself and put forward those qualities that I know him to have. That in itself for me personally will bring a lot of hope.
"As a man of experience administratively, he has his know how and of course there are things he is going to learn because he is now in a higher position that is going to involve him a little bit deeper in administration in CONCACAF, CFU, FIFA and he is going to have stuff that he will learn along the way. But at the same time I believe he will bring a sort of calming, cohesive, functional administrative framework to the federation and I am happy for that because it is something we have needed for quite a long time," said the former Sunderland and Stoke City forward.
Jones touched on his experience playing under Wallace as a team manager when he served the team which went on to qualify for two consecutive CONCACAF Gold Cup quarter finals in 2013 and 2015 as well as finish runners up in two Caribbean Cups.
"I think it was fantastic between the technical staff and the other staff and players, we had such a great understanding, bond, moving forward," Jones said.
"For the entire team and that's including staff also I think we were going through the same issues. It wasn't a situation of the coach and members of the technical team and the other staff members being taken cared of and the players not being taken cared of or the players being taken cared of and the technical team not being taken cared of.
"We were all in the same boat having the same frustrations, things not happening for us and what we had in that time in William Wallace as a manager… he fought for everything. Of course he would have a complaint or players or technical staff would have a complaint concerning different things, and he would listen and he would definitely put his best foot forward in trying to achieve if not the exact thing, but as close as possible to it.
"What I thought of him is he was honest in his actions, in his efforts and delivery. He would not sell you dreams because we were all familiar with the situations that we would encounter in future days and dealing with presently. Whatever we proposed to do or get he would go in and try his hardest to deliver. In the end he was not just delivering for one or two, he was delivering for everyone. I believe him to be in my experience, a man of integrity and a man of his word. Having him as a manager was one of the smoothest periods amidst the "bocas" we had as a team. I know that experience will stand him well in the future," Jones added.